Remaining competitive in today's car wash industry requires advanced customer management solutions.
For years, Micrologic has offered car wash owners an automated way of recognizing a vehicle and processing the wash by leveraging RFID, or radio frequency identification systems. RFID tags provide hands free technology helping to ensure proper reimbursement for your services. With its tamper-resistant feature the tag is automatically disabled if removed from the windshield.
With the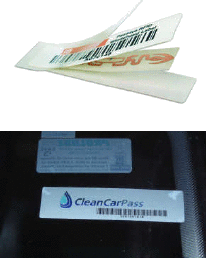 power of our CleanCarPass RFID solution, your business can offer Unlimited Monthly Wash programs that work like a gym membership, promoting long-lasting relationships and providing a steady stream of predictable income for your business. With RFID, your business can start offering your regular customers a more personalized and streamlined experience that will continue to bring them back.
Our CleanCarPass RFID solution also supports the management of Fleet Accounts by enabling your business to track individual vehicles within the fleet, set up specialized fleet account pricing, create detailed reports and generate invoices.
Your staff and customers will appreciate the fast, efficient and convenient benefits of our CleanCarPass RFID solution.
Additional features include:
Read range of 9′ – 11″ with RFID tag/reader
Weather-resistant sealing
No battery required due to passive tag technology
Low cost RFID tags
Can be used with or without an Entry Payment Machine
Generates a recurring revenue stream
Promotes customer loyalty
Works across multiple sites