LogicWash® Web Management System is our comprehensive car wash management platform.
Car wash owners and operators gain enhanced insight into their businesses with the ability to review transactions in real-time through the Digital Dashboard. LogicWash® also offers the ability to change service pricing, review labor costs and many other metrics that can help improve decision-making. It allows your employees to process transactions and serve customers quickly and effectively and lets them recommend products and provide more personalized service. Store managers are able to maintain tight control over inventory, pricing, suppliers, promotions, customer information, and reporting.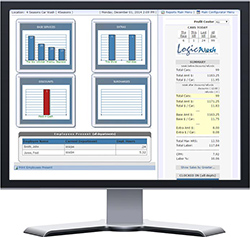 The LogicWash® system features handheld wireless devices, point of sale terminals, auto payment machines and tunnel controllers that allow owners and operators to act from anywhere.
With LogicWash®, all team members can be kept up to date and enjoy constant communication, even from distinct stations within the car wash. All the features of the point of sale terminals, wireless handheld devices and controllers can be configured to meet your business' unique needs.

Contact us today to see how the LogicWash® Web Management System can help your business reach its performance goals.
Key Features:
Cash Management: the LogicWash® Cash Management feature gives you full control over your car wash operation by providing you with accurate, detailed and easy cash management functions.
Customer Tracking: LogicWash® can track your customers by a number of different methods including license plate, key fob, VIN barcode, registration barcode. Sales history, frequency of visits, and other customer information can be tracked and reported on.
House/Fleet Account Management: House accounts allow you to track individual vehicles within the fleet and create detailed billing reports. The LogicWash® system can automatically adjust pricing or restrict what kind of service they are permitted to charge.
High Speed Credit Card Processing: LogicWash® makes it fast, easy and convenient to accept and process credit cards in seconds. Our software can accept all major credit cards including Visa, Mastercard, AMEX, Discover, Dinners, JCB and some private labeled cards. Detailed and summarized reports are available from the POS or reporting / managers station. Signature can be turned off to further speed up transaction times.
Inventory Management: LogicWash® Inventory Control module is easy to use and designed to give you more control over your inventory by preventing theft and automating the reorder process of your merchandise. Barcoded products can be automatically scanned into the point of sale to reduce cashier errors and speed up the checkout process.
Labor Management: LogicWash® can help control your labor costs by providing you with detailed employee tracking, labor statistics and productivity reports.
Tunnel Controller Interface: LogicWash® integrates seamlessly with most tunnel controllers. Automatic error notification feature makes it easier to locate and fix errors that occur between the tunnel equipment and the POS.
Gift Card Sales and Redemption: Offering gift cards is a great way to create loyalty and keep your customers coming back to your location. The LogicWash® system allows you to sell any dollar value on the card without transaction fees. Gift cards can be created with your logo and custom printing.
Prepaid Wash Sales and Redemption: The LogicWash® system gives you the ability to sell prepaid wash books with a variety of options.
Customer Rewards Program: Engage your customers by using the LogicWash® Rewards Program. Consumers are value driven and seek rewards for business loyalty. The LogicWash® Rewards program delivers flexible, customizable, reward and bonus programs.
Monthly Wash Program: The Monthly Wash Program is a great way to have a steady stream of recurring revenue each month. The LogicWash® system recognizes the customer is on the Monthly Wash Plan, and automatically creates a wash for them. The system has the capability of offering a la carte options to upgrade services that may not have been included in the wash plan. The system will take care of recurring billing to a credit card.
Multi-Site Data Sharing: LogicWash® data replication tools allows you to share data between your sites. Data is transferred securely using the latest encryption and transfer techniques. By sharing customer information between sites, you can attract more customers as they will be able to be personally greeted at all your locations.